1
« on: 14/06/2021 04:24:34 »
Veritasium made a video showing that we can build a wind powered car that goes faster than the wind itself.
Alexander Kusenko, a UCLA Physics Prof. disagree.
https://twitter.com/veritasium/status/1403130178197278720
Big News! UCLA Physics Prof, @alexkusenko bet me $10,000 that I'm wrong about going downwind faster than the wind. Our wager was witnessed by
@neiltyson
@BillNye
@seanmcarroll
If I win, to what charitable cause should I donate the funds?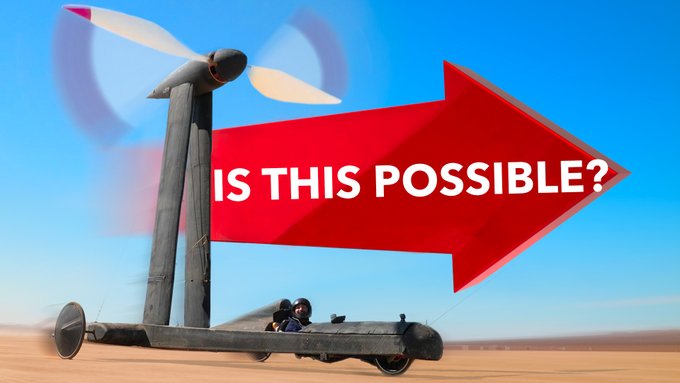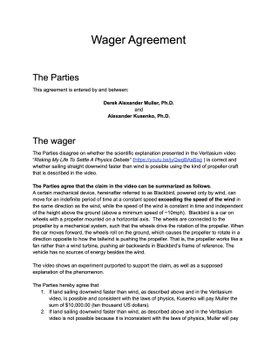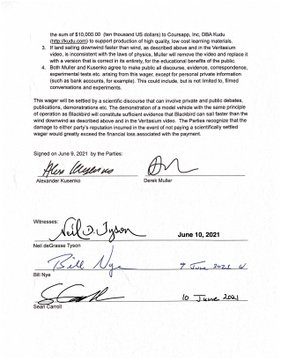 Here is the response from Alexander Kusenko trying to debunk the claim in Veritasium's video.
Here is a set of 10 slides that (1) explain what is seen in the video (2) point out the errors theoretical arguments, and (3) provide a complete solution to the problem.
https://docs.google.com/presentation/d/1xuN-9C1Gs6MAVTJkhh1vMJw0atmSsTsKDkhEfN898K4/edit#slide=id.gdc0eb9892c_0_223
Replying to
@thephysicsgirl
@alexkusenko
and 3 others
Come on! If someone emails me saying I'm wrong, first I try to convince them that I'm right. Then if we continue to disagree I suggest we make it interesting. The key is to get to the truth. The best, scientifically accurate explanation should win.